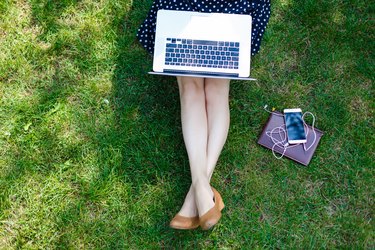 How to copy a video from a website depends on which website it's hosted on. Some websites will allow you to simply click to download the video, while others may make it more difficult. You can get tools to rip a video from a website that doesn't make it easy, but remember to make sure you understand how copyright law applies to the download and how you plan to use the video.
Downloading HTML Video from Websites
It's often useful to download videos and other content from websites so that you can watch it when you're not on a speedy internet connection, such as when you're at a remote location or traveling by airplane.
Some websites embed videos simply using the hypertext markup language, or HTML, the standard language for building content on the World Wide Web. On these sites, you can usually simply click the video using your right mouse button or press and hold the video if you're on a touchscreen device.
In the menu that pops up, look for an option to save the video. Click or tap that and choose where you want to store the file on your computer or phone. Once it finishes saving, the video file should then be available for you to play back whenever you wish.
Downloading Video from Other Sites
If you want to download a video from a website online that doesn't provide an option to do so when you right-click the video, first check the website to see if there is any sort of download or save option made available. Read the website's documentation or search with a search engine to see if it has any options you may be missing to download video.
Many video sites offer the ability to save files to view offline, but some attach conditions to when you can do so. In some cases, you may need to use a smartphone or tablet app to download video to watch offline rather than doing it with your Web browser, even if you can use a browser to stream content.
Using Video Downloading Tools
There are specialized tools available to download videos from sites that don't otherwise make it easy. One of the most famous is called YouTube-DL, although it supports a variety of video sites beyond YouTube. It is free, open-source and available for most modern operating systems.
Browser extensions, such as Video Downloader Professional, for browsers including Google Chrome and Mozilla Firefox can also help download video from various sites.
If you're installing any software on your computer or smartphone, make sure that it's from a source that you trust. Read independent reviews to make sure the software is legitimate and not malicious, and make sure you're getting it from an official source. Be wary of untrusted software that may contain malware, and don't pay for software unless you're confident it will do what you wish.
Video Downloads and Copyright Law
In the United States and many other countries, copyright law restricts when you can download, upload or copy content without the legal owner's permission. It also restricts when you can publicly display works such as movies and music. Copyright provisions known as fair use rights provide some exceptions to these rules.
If you are going to be downloading video content or showing videos in a public place, make sure you understand how copyright law applies to what you are doing. Keep in mind that if you violate copyright law, you might be sued or even prosecuted. If you're not sure of how the law applies to your situation, consider consulting a lawyer.