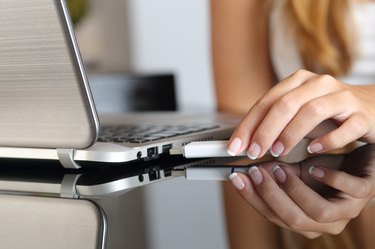 There are a variety of reasons why you might want or need to copy a YouTube video to offline storage. You might be archiving a video for future academic or critical use, or perhaps you just want to preserve your favorite video content for yourself to prevent worry about a video being removed from the platform at a later date. Regardless of your reason, you can put a YouTube video on a memory stick without too much trouble – as long as you're willing to use third-party tools to download the video in the first place.
Can You Download YouTube Videos?
While it is possible to download a YouTube video, you aren't supposed to do so according to the video platform. YouTube's terms of service, do not permit video downloads from the platform unless the downloader is given the option to do so by YouTube itself. As it stands, the only method for downloading videos that YouTube offers is linked to its paid YouTube Premium service, but the download service isn't helpful or sustainable when you want to archive content for the long term. Currently, Premium users can only download videos to mobile devices for offline viewing, and they must maintain membership and be logged in to the app before viewing videos saved to local storage. This process only works in locations where YouTube Premium is available, and any videos deleted from the YouTube platform are no longer available. As a result, downloading a YouTube video for storage on a flash drive or another permanent location requires the use of a third-party video-copying service.
How to Copy a YouTube Video
Although YouTube doesn't offer a helpful solution itself, there are multiple ways to download YouTube videos. The easiest way is to use a video-downloading website, but recent crackdowns on these sites by YouTube – done to protect the revenue provided to YouTube and content creators via advertisements shown with the videos – have made once-popular sites like KeepVid useless. These websites allowed users to paste in a link to any given YouTube video to copy the video, convert it to a standalone video file, and then download it to their computers.
Currently, the most effective method of downloading YouTube videos is to use software like WinX YouTube Downloader or aTube Catcher. These programs function in the same way as downloading sites but run directly from the user's computer. Unfortunately, use of these programs can cause YouTube to block users from the site if they attempt to download many videos in a short period.
Placing Videos on Flash Drives
Regardless of the method you use, you copy a YouTube video by clicking the "Download" button to save it. If your browser or program provides the option to save videos to a specific directory, you can download YouTube videos to a USB flash drive directly, but if you lack the option to save to a specific location, you can download the video normally. When the download is complete, go to your Downloads folder and drag the file to the flash drive as you would any other file. You are then able to transport the video and view it on other devices.