After you sign up for an account on YouTube, you can shoot your own videos and post them online, where people can view them on your YouTube channel. If you also want to use someone else's video on your YouTube channel, you can change your account settings to share the favorites in your playlist.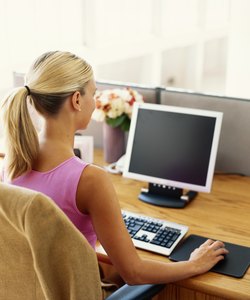 Sharing Videos on YouTube
YouTube is a free video-hosting website that enables people from around the world to share videos that they've shot with digital video cameras, cellphones and other portable devices. You don't need an account on YouTube to browse and search for videos or view people's channels, but you do need an account if you want to upload your own videos to your channel or save your favorites in a playlist.
Watching YouTube Videos
When you're in the mood to watch a video on YouTube, you point your Web browser to the YouTube website (youtube.com) and sign in to your account so you can designate videos as favorites or save them in a playlist. Browse the thumbnails of videos on the front page, click a category, or type a search term in the search box. Click the thumbnail of a video to start playing it.
Save Videos to Playlist
If you're watching a video while signed in to your YouTube account, you can save it in a playlist if you don't have time to finish playing it, or if you know that you'll want to watch it again. Click the triangle next to "+ Add To" under the video, and then click "New Playlist" from the drop-down menu. Type a name for the playlist, and then press the "Enter" key on your computer's keyboard. A message appears, confirming that you saved the video to your playlist. You can also click "Favorites" from the "+ Add To" drop-down menu to save a video to your list of favorite YouTube videos.
YouTube Channel Settings
Visitors to your YouTube channel can see the videos that you've uploaded. If you want to also use someone else's YouTube video on your channel, you can share your playlist. Go to the YouTube website and sign in to your account. Click your account name at the top of the page, and then click "Channel." Click the "Videos and Playlists" tab at the top of the page. Click the "My Favorites" check box to display other people's videos that you have marked as your favorites, and click the "Playlists" check box to display other people's videos that you have saved in a playlist. Click the check box next to the name of each playlist that you want to share. Click "Save Changes."