Anyone who has a Google account can create a YouTube channel for personal use or for a company or organization. YouTube offers tools designed to help you customize your channel and attract viewers.
Create a YouTube Channel
Step 1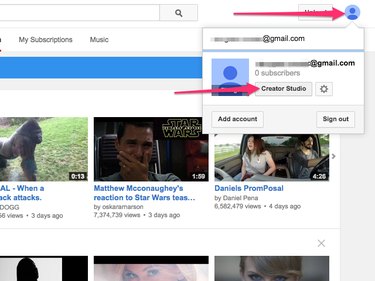 Sign in to YouTube, click your Profile icon and then click the Creator Studio button.
Step 2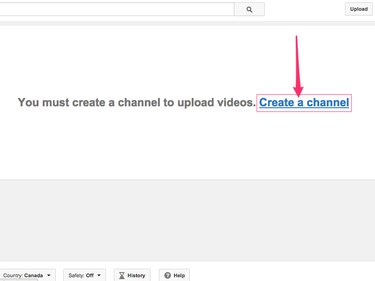 Click the Create Channel link to create your YouTube channel.
Customize Your Channel
Step 1
Select the name you want to use for YouTube. Click Continue to proceed with your Google account name or click the Edit link to choose a different name. To use YouTube as an organization or business, click the Click Here link next to the To Use a Business or Other Name heading and follow the prompts to enter the name you want to use.
Step 2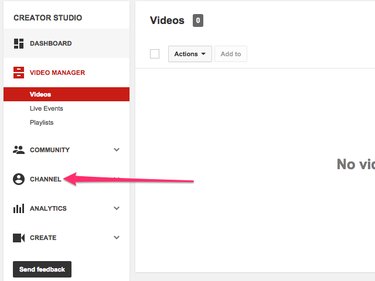 Select Channel on the main menu along the side of the screen to view your main channel configuration page.

Step 3
Click Dashboard in the left sidebar and then click the View Channel link under your name to view your channel.
Step 4
Click the Add Channel Art button to upload a header image to your channel. This helps brand your channel. Whether you're a gamer, a musical act, or any other type of organization or individual, an attractive header conveys professionalism. Watch YouTube's primer on channel art for handy tips and tricks to best represent yourself through graphics.
Step 5
Click the Upload button to upload a video. Drag and drop your video file onto the screen or click the Select Files to Upload icon. After the video is uploaded, add a title, description, keywords and other information using the provided fields. For more tips and tricks, watch the official YouTube video on how to upload.
If you have a webcam, you can create movies directly in YouTube by clicking the Record button under the Webcam Capture heading.
Step 6
Click Advanced under the Channel heading in the left sidebar to customize advanced settings. Here you can set your profile picture, choose channel keywords, allow or prevent advertisements, link an AdWords account and add an analytics tracking ID.
Build an Audience
Post content that speaks to your target demographic. Many professional YouTube personalities deal with topical subjects in the hope that people will share the content. Post new content regularly to encourage return visits from your viewers
Use YouTube's tools to your advantage.
Use a logo for your profile picture if you're posting as an organization, company or group. If you're a personal YouTuber, upload a clear image of yourself that is easily identifiable.

Be specific when choosing channel keywords. Enter your name and various incorrect spellings of it, in case people spell it incorrectly when searching for you. Put phrases inside quotation marks so they are treated as one searchable unit.
Enter your website in the Associated Website field so that visitors to your YouTube profile can easily find it.
Click the Display the Number of People Subscribed to My Channel radio button only after you have a solid core of subscribers. If people see that a channel has few subscribers, they may avoid it.
Use YouTube's Annotations and Cards tools to superimpose subscription buttons and add other interactivity to your videos to make them more engaging. You can also use these toolsto direct viewers to your other videos and to other content on YouTubethey might find interesting.