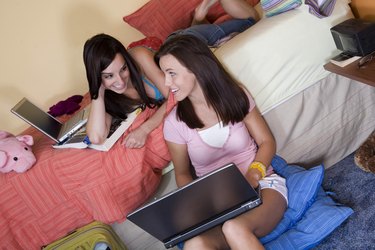 YouTube is an online video depository that allows you to upload, share and view videos with your Google account. Beyond providing users with unlimited free video uploading and viewing, YouTube enables you to befriend other users and subscribe to their channels, giving the site a social aspect. Just as with other social media sites like Facebook and Twitter, it's possible to block others on YouTube from communicating with you and making comments on your content. If you think someone has blocked you on YouTube, use any of several methods to make sure.
Step 1
Visit any YouTube video of a user you believe has blocked you. If you don't have the option to make a comment—but see that others have made them before you—you've been blocked.
Step 2
Attempt to send a message to the user you believe has blocked you. If no option for sending a message to him exists on his profile page, he has blocked you.
Step 3
Contact the user using other means if you know her well—online or otherwise—and believe you may have been blocked erroneously. But if the user had a legitimate reason to block you, such as if you spammed or harassed her, don't attempt to contact her in any way.