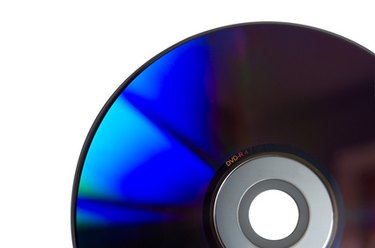 YouTube is an online video service where users can freely watch, upload and share flash videos. Even though the website does not support a download feature, users can run YouTube Downloader to save YouTube clips to their computers. Once the video is downloaded to their computer, users can also copy the file to recordable media like a CD-R, CD-RW, DVD-R or DVD-RW. While previous Microsoft operating systems were not equipped with a comprehensive writing capability for this task, disc burning is a built-in functionality for Windows 7.
Copy a YouTube Video to CD or DVD
Step 1
Download and install YouTube Downloader. The freeware can be obtained directly from CNET's Download.com or directly from the manufacturer at youtubedownload.altervista.org.
Step 2
Run YouTube Downloader. Open the application and enter the address of a YouTube video in the "Enter video URL" field. Make sure the "Download video from YouTube" option is selected and click "OK."
Step 3
Save your YouTube video. In the "Save As" window, select the download destination for your video and click "Save." The flash file of the YouTube video will be stored in that location on your computer.
Step 4
Prepare to "burn" your blank disc. Load your blank CD or DVD into the disc burner drive of your computer. An "Autoplay" window will appear, choose "Burn files to disc" and set your preferences.
Step 5
Copy your YouTube video to your disc. Navigate to the saved location of your YouTube video, right-click on the filename, choose "Send To" and select your disc burner drive.
Step 6
"Burn" your blank disc. Open the "My Computer" icon on your desktop and click on the loaded disc drive. The copied file of the YouTube video will appear in the burner disc drive window. Select the "Burn to disc" option on the top navigation bar and follow the prompts to set your burning preferences. When the burning status bar disappears, your YouTube video will be written to your disc.
Things You'll Need
Windows 7

YouTube downloader

Disc burner drive

Blank disc (a CD-R, CD-RW, DVD-R or DVD-RW)
Tip
While CD-R, CD-RW, DVD-R or DVD-RW are all recordable media formats, they vary in size and usage. Generally speaking, blank DVDs offer significantly more storage space than CDs. The "R" stands for "recordable," and discs with this extension are only intended to be burned once. Meanwhile discs with the "RW" extension are "rewritable," and they allow for stored data to be modified, added or removed.
Mac users can follow similar steps for copying a YouTube video to a disc. Once they have downloaded their video, they can simply drag the item into the disc drive and run the "Burn" command.