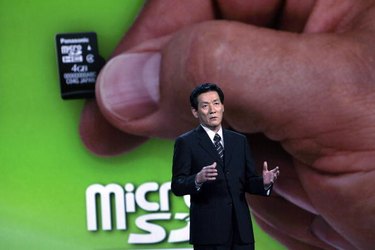 A Secure Digital card is a small flash memory device that stores and transfers a variety of files, generally from computers to other portable devices like cameras and smart phones. The card can carry music files to listen to on SD-compatible smart phones with MP3 players. Although you cannot directly transfer YouTube music to the card, you can convert and save songs from YouTube to a compatible file type for your SD card.
Step 1
Visit YouTube and locate the video with the music you want to save.
Step 2
Click the "Share" button. Right-click the URL that appears and select "Copy."
Step 3
Visit a YouTube conversion website, such as ListenToYouTube, Bender Converter or Xenra. Right-click the indicated field for your link and select "Paste" to enter the URL for the video. If the website asks for a file type to which the video will be converted, select MP3.
Step 4
Click "Download" when prompted to convert and download an MP3 of the audio from the YouTube video.
Step 5
Insert the SD card into your computer. Click the Start menu and select "Computer" to browse your disk drives. Select and open the SD card directory, labeled as an external media device.
Step 6
Locate and right-click the MP3 you downloaded from the YouTube video, which is stored in your "Downloads" folder by default. Click "Copy."
Step 7
Right-click inside the SD card's folder and click "Paste" to copy the MP3.