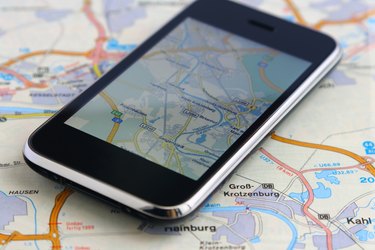 Downloadable GPS maps function as the software for GPS hardware devices such as TomTom, Garmin and Magellan. These map files of numerous regions worldwide are available on the Internet, many at little or no cost to the consumer. Downloading, mounting and using these GPS map image files requires a PC, an Internet connection, a GPS unit with an SD card and a USB connection or Wi-Fi or Bluetooth connectivity, depending on the make and model of your device.
Garmin
Explore the various websites containing free Garmin map image files (IMG). When you find the map of the region you are seeking, download it to your PC. If you have an SD card reader, pop out the Garmin SD card and load it into your machine. Otherwise, directly connect Garmin to your PC with a USB cord. Before loading the new IMG file you downloaded, remember to move and save your original to a map file on your PC hard drive. Leave any other files on the Garmin in place. Once you have loaded your new file, pop the SD card back into your Garmin and you are ready to go.
TomTom
TomTom offers free map files and updates for several of its products on a life-of-the-product basis. If you are a new TomTom owner, register your GPS with the company over the Internet. Then create a MyTomTom folder on your PC. Downloads and updates of the OV2 files used by the TomTom operating system are available quarterly. You can transfer them to your TomTom with a USB cable attached to your computer and the TomTom. If you have an older TomTom or purchased your unit second hand, a quarterly subscription is also available. Alternatively, you could join the TomTom Map Share community to access free updates as they occur.
Magellan
In order to access free map files for your Magellan GPS device, download the VantagePoint program from the Magellan website to your PC. Then, from one of several websites with free Magellan open source map files available, download the selected files to your PC and unpack them, as they are generally compressed to save space. Follow the directions on the open source website or go to the Magellan website and read how to install downloaded map files onto your device. Instructions vary for different models.
Your Smartphone
If you own a smartphone, you can download iPhone, Google or WAZE apps for Android, Apple and Microsoft operating systems that turn your phone into a GPS. After downloading, make sure your location finder is turned on and open the app. You can see where you are on the map that displays, and then select a destination. When activated, the iPhone, Google or WAZE apps display various routes, distances and travel times to and from your destination. As long as your location finder is turned on, maps of your surrounding area are downloaded automatically. You can even activate the voice command to receive verbal directions as you journey towards your objective.