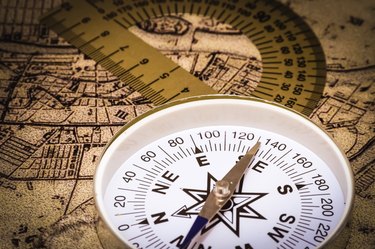 If you have a specific set of coordinates to which you want to navigate, you can enter them into your Garmin eTrex, Nuvi, Dezl, Zumo or HomePort device. Entering map coordinates is different from typing in an address or place of interest, but not necessarily challenging when you know the correct method to use. You can use coordinates for hiking and geocaching, boating and fishing or driving cars, motorcycles and even tractor-trailer rigs.
Garmin eTrex
Step 1
Power on your device and wait while it searches for a signal. Press the menu button to access the main menu.
Step 2
Press the "Select" button to move to and select "Mark Waypoint."
Step 3
Select the "Location" field and scroll to select the coordinates you want to enter.
Step 4
Press "Done" when you are finished entering the fields. Make any other changes you desire, such as notes or elevation, and click "Done" to save the changes.
Garmin Nuvi, Dezl, LIVE, RV/Camper or Zumo
Step 1
Power on your Garmin road device and touch "Where To?" to view the destination options.
Step 2
Press the down arrow key and touch "Coordinates." If you do not see Coordinates, touch "Categories" first and then select "Coordinates."
Step 3
Enter the coordinates in the Latitude and Longitude boxes. Touch the "Format" button, which resembles three horizontal bars, to select a different coordinate format if desired.
Step 4
Touch "View on Map" to preview the coordinates on a map. Touch "Next" when you are finished and touch "Go" to receive directions to the coordinates.
Garmin HomePort
Step 1
Create a waypoint using coordinates on your PC using Garmin HomePort to use with your Garmin marine device. Insert your SD card into the computer, start the HomePort application and select "Find."
Step 2
Click "Locate Coordinates" and enter the coordinates you want to use. Click "Create Waypoint" to save the coordinates.
Step 3
Right-click the waypoint and select "Send To." Select the SD card and choose "Untitled" or the name of the folder in which you want to save the coordinates. Remove the SD card from your computer.
Step 4
Power on your marine GPS device and insert the SD card. Select "Manage Card" and choose "Merge from Card" if you want to add the new coordinates to your existing data or "Replace from Card" to overwrite your existing data. Select the folder on the SD card where you saved the coordinates to import them.