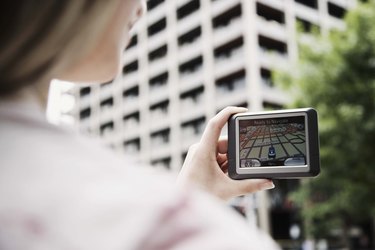 Google Maps, a popular web-mapping application, makes it easy to find businesses and residences in many countries. Whether you are planning a business trip or your next vacation, it is now possible to send the results of your Google Map searches to your TomTom in-car GPS device. Follow these simple steps to upload your favorite destinations or important addresses directly to your TomTom and enjoy the ride.
Step 1
Connect your TomTom device to your computer.
Step 2
Open your Internet browser, navigate to the Google homepage and click on "Maps" in the upper left corner of the page to start Google Maps.
Step 3
Search Google Maps for the location you seek by typing the address or the "what" and/or "where" (e.g. "bookstore" in "Madison") in the search box and click "Search Maps."
Step 4
Select your destination by clicking once on red pin that Google Maps has used to mark the location on the map and choose the "Send" link in top right corner of your screen.
Step 5
Click "GPS" and select "TomTom" from the "Brand" menu in the "Send To" window. Confirm the address and click the "Send" button.
Step 6
TomTom HOME will start automatically. Choose to either "Show on Map," "Navigate to It" or "Add to Favorites" and the address you selected in Google Maps is sent directly to your TomTom device.