Reentering a frequently visited location on your Garmin GPS can be a hassle, which is why Garmin features My Locations (known as Favorites on some models). By saving destinations in My Locations, you can quickly access a frequently used location without having to enter the street address all over again. Adding a new location can be done in two ways: adding the street address as a new location, or adding your current position as one.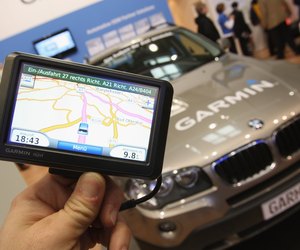 credit: Sean Gallup/Getty Images News/Getty Images
Adding a New Location
Step
Launch the "Where to?" menu and enter the street address of the desired destination.
Step
Touch the Menu button, designated by three horizontal lines, when the address is displayed on the map. Some models may require you to press the "Info" button, located in the center of the device, before touching the Menu button.
Step
Touch the "Save" button.
Step
Type the desired name for the destination if prompted.
Step
Touch "Done" when prompted, followed by "OK," to complete adding the destination to My Locations.
Saving Current Location
Step
Touch "View Map."
Step
Touch the vehicle icon.
Step
Select "Yes" to confirm that you wish to save the current location.
Step
Enter a name for the location.
Step
Touch "Done" to complete saving the location.