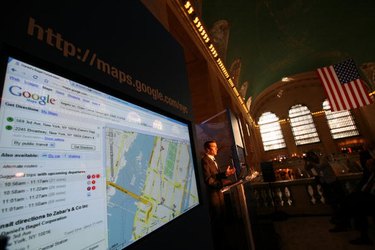 Marking a spot on Google Maps is a convenient way for people in cities and towns to highlight points of interest, like a local coffee shop, library or used bookstore. To mark spots on the map you will need to visit the Google Map Maker site. Once you zoom into your selected location, you can add a point, draw a line or even plot shapes on the map. This is a way to add knowledge to the map about your local area and places you frequent.
Step 1
Go to the Google Map Maker site. Type "google.com/mapmaker" in the browser's address bar.
Step 2
Type a city and state name, ZIP code or address in the search box at the top of the page.
Step 3
Zoom into the map. Click the "+" icon on the vertical bar on the left side of the map view.
Step 4
Click the "Add a point" icon in the "Add" box. It is located near the top of the map view.
Step 5
Type or select a category. Then move the plot marker icon to a spot on the map.
Step 6
Enter all known information about the location you marked. You will see a form on the left side, next to the map view. Click the "Save" button when finished.