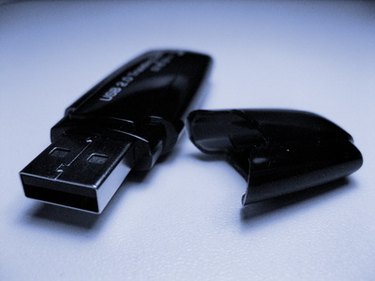 Flash drives offer removable, highly-portable flash memory data storage. Commonly referred to as USB drives, jump drives or thumb drives, they are significantly smaller than floppy disks while offering hundreds or thousands of times more storage capacity. In addition, flash drives allow stored content to be copied or deleted at any time, a feature not offered by all writable CDs and DVDs. As long as your flash drive is attached to your computer, downloading content to the drive from the Internet is a quick task.
Step 1
Insert the flash drive into an open USB slot.
Step 2
Open your Web browser, email client, FTP client or other software through which Internet content is accessed. Navigate to the location containing the content you want to download.
Step 3
Run the software's "Save" command. To download a file from a website, right-click the hyperlink that points to the file and select "Save Target As" or "Save Link As." To download a Web page or an email message, click "File" in the top menu bar of the program window and select "Save As" or "Save Page As."
Step 4
Select your flash drive from the resulting dialog box. If you use Windows, open the "My Computer" folder and then double-click the icon representing your flash drive. In Mac OS X, click the down-arrow next to the "Save As" field to expand the dialog box. After doing so, double-click the flash drive icon located on the left-hand side of the dialog box.
Step 5
Click "Save" to save the files from the Internet to your flash drive. Small files save almost instantly; larger files take longer, depending on the size of the file and the speed of your network connection.