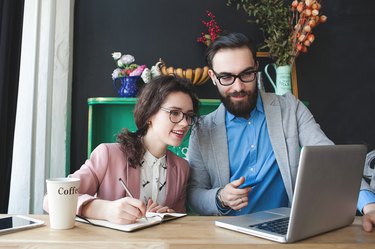 Microsoft Word is one of the most popular applications used to create documents. Word documents are often sent via email as an attachment. If you do not have Microsoft Word on your laptop, you will not be able to view those attachments, which could result in decreased productivity. Because Microsoft Word is included in the Microsoft Office software suite, you have to get the entire package to use the Word program.
Step 1
Check your laptop to ensure that you have the minimum system requirements needed to download the Microsoft software. For example, the system requirements for a Windows operating system include 256 MB of RAM and an Intel processor.
Step 2
Purchase the Microsoft Office software online from the Microsoft website or from a computer retailer. If you have a new laptop, it is likely that your laptop came with a free trial version of the Microsoft Office software that can purchased right from your computer by entering your credit card information.
Step 3
Download and install the Microsoft Office software on your laptop. If you purchased the software online, you will be provided with a link to complete the download and installation of the software. In order to complete the process, you will need to enter your "product key." The product key is a code that will be provided to you after you purchase the software.
Step 4
Open the Microsoft Word program by clicking on "Start," "Programs" and "Microsoft Word." If you would like to place an icon for Microsoft Word on your desktop, "Right Click" on the program and select "Send To" desktop.