By shopping through the iTunes Store app on iOS 8, you can download music to your iPhone without a computer. Even if you usually sync your music from iTunes on a PC or Mac, the phone itself is all you need to buy new songs or download old purchases.
Step 1: Find New Music
Open the iTunes Store app on your iPhone to browse the store. On the Music page, check out the Featured or Charts tabs for current top hits and sales. Tap Genres to see the featured songs and charts for a particular genre.
If you're looking for something in particular, open the Search page and type a song, album or artist name.
Step 2: Preview and Download
Tap a song's name on the details page to listen to a sample clip. There's no limit to how many songs you can try out, but each only plays a short selection from the full piece. When you find what you're looking for, tap the album or song price, and then tap Buy Album or Buy Song.
Tip
Albums usually cost less than the sum of their songs, so if you want several tracks, check to see if buying the entire album is a better deal. If you buy individual tracks and change your mind later, check back on the album page. Some albums offer Complete My Album, which lets you deduct the cost of tracks you've already purchased.
Tap Purchased and choose Music to download music you already own. Open the Not on This iPhone tab to narrow the list, and pick the artist you want to download.
Tap Download All to download all the music from an artist, or tap the cloud icon by an album or song to download individual items. ITunes won't charge you for music you've already paid for, as long as you use the same Apple ID. Downloading music with a cloud icon incurs no charges.
Step 3: Confirm Download
As soon as you buy a song or album, your iPhone automatically begins the download. When it finishes, use the Music app to listen. To see download progress, select More and tap Downloads.
Tip
To transfer music purchased on your iPhone into iTunes on your computer, connect your iPhone, open the File menu in iTunes and click Devices and then Transfer Purchases from iPhone. Alternatively, search for the song or album in the store and click the cloud icon to download it at no cost.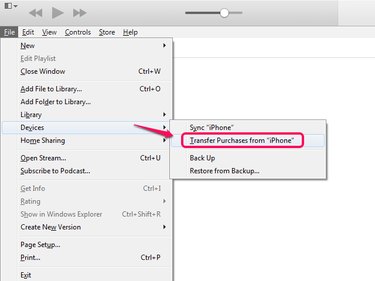 Tip
The iTunes Store is the iPhone's official method for downloading music, but it's not the only option. Several music subscription services including Spotify, Amazon Prime Music and Rhapsody offer downloadable songs with paid memberships. If you use one of these services, you need to use its app both to download and listen to your music -- the songs won't show up in the Music app.