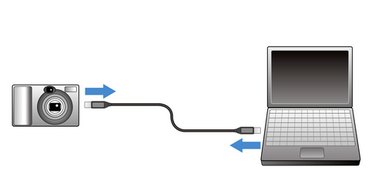 Downloading photos from a DVD to your computer allows you to share them with family and friends quickly, whether it be via email or viewed from your computer as a slideshow. Transferring them onto your computer also saves you time so that you do not have to insert and load the DVD each time you want to view the pictures stored on it.
Step 1
Create a new folder on your computer where you want to store the pictures you want to download. Keep this newly created folder open and accessible.
Step 2
Place the DVD into your computer DVD drive. Unless you have configured your settings otherwise, once the DVD loads, a separate window will automatically pop up that asks you whether you want to listen to audio files or view the data contain on the disk, among other options. Scroll down and select the option to view files on the DVD. A folder containing all the pictures saved on the DVD will pop up.
Step 3
Select or highlight the photos you want to download. Drag and drop all files into the folder you just created. Photos will automatically be saved in this folder and you can view, edit and share them at your leisure.
Tip
Dragging and dropping files from one folder to another takes some practice. If you are having trouble with this task, you can select photos then use the copy and paste functions to duplicate and save photos in the new folder you created.