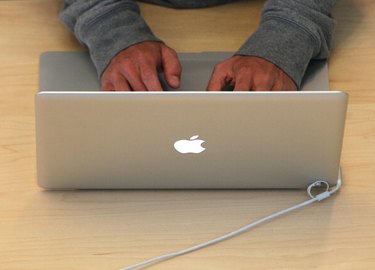 Backing up any software is a good idea, as you don't want to lose your investment if the original disc gets damaged. Because Snow Leopard is available with multiple licenses on one DVD, you may find it beneficial to create other bootable copies of it so everybody with the license can install it at the same time, and keep a backup in case it is needed. Using OS X's Disk Utility, you can create a bootable DVD copy.
Step 1
Insert your Mac OS X Snow Leopard DVD into your Mac's disc drive.
Step 2
Go to the "Disk Utility" application in the "Utilities" folder in Finder. This is in the "Applications" folder.
Step 3
Click on "Mac OS X Install DVD" in the left panel. Click "New Image" in the toolbar at the top of the window.
Step 4
Give your DVD image a different name. Select "DVD/CD Master" from the "Image Format" drop-down menu.
Step 5
Click "Save." The DVD image will be saved to the location that you selected. This may take a few minutes, depending upon your DVD drive speed.
Step 6
Eject your Snow Leopard DVD when it has finished copying, and insert your blank DVD.
Step 7
Select the new "Mac OS X Install DVD.cdr" image in the left panel, then click "Burn" in the toolbar.
Step 8
Select the slowest burn speed from the "Speed" drop-down menu, then click "Burn." Your DVD will begin the burn process. When it is finished, the DVD will be ejected.
Tips & Warnings
The Snow Leopard DVD image is too large to fit on a single-layer DVD, so you'll need a dual-layer DVD writer and a blank DVD. An external DVD burner will work if your Mac doesn't have an internal one.