Today's more advanced LG cell phones and MP3 players come equipped with cost-efficient capabilities for downloading songs. If you're downloading songs to an LG phone or MP3 player, you can always buy from the phone carrier or a digital MP3 downloading site, such as iTunes. But what if the carrier or downloading site just doesn't have what you're looking for? The answer is to simply download songs straight from your computer. Whether you're using a phone or MP3 player, all you need is music on your computer and a sync cable. The process is the same for both devices.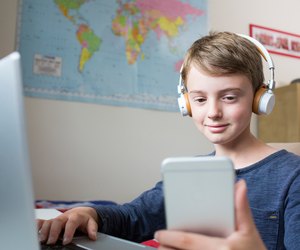 credit: Daisy-Daisy/iStock/Getty Images
Step
Open Windows Media Player. Double-click on the orange and blue Windows Media Player "Play" button symbol on your computer's desktop screen or task bar.
Step
Connect the LG device to the computer. Insert the USB sync cable into the LG device's USB hub. (The smaller end of the USB sync cable is to be plugged into the LG device itself.) Connect the other end of the USB sync cable to one of your computer's USB ports. Opt to bypass the AutoPlay window once the connection is detected by simply closing out of the window.
Step
Adjust your Windows Media Player settings to prepare for downloading. Click on the "Sync" pane tab in the upper-right corner of the navigation screen. A rectangular "Sync" pane should appear on the right side of your Windows Media Player application.
Step
Download your songs to the LG device. Click once on the song you would like to download. When the song is highlighted, drag it to the "Sync" pane on the right side of the Windows Media Player application. Repeat the action to add additional songs to your sync list. Click on the "Start Sync" action once you finish your song download list.
Step
When the downloading process is complete, the Windows Media Player synchronization pane will display "100%" in bold red text in the lower right corner of the application. Unplug the USB sync cable from the LG device itself and then the computer.