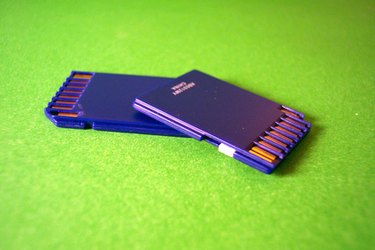 Windows Media Player (WMP) not only plays music and video but also lets you transfer music from your computer to an SD memory card. After you upload your favorite artists, songs and playlists to an SD card, you can transfer them to another computer or play them on a portable media player or cell phone.
Step 1
Plug an SD card into the memory card slot on your computer. Memory card slots are generally located on the front or side of the machine, depending on whether you are using a desktop or laptop. If your computer does not have a memory card slot, connect an SD card reader to your computer, then plug the SD card into the card slot on the reader. If you do not have an SD card reader, purchase one from an electronics store. SD cards may cost from $10 to over $50 (as of 2010), depending on the type.
Step 2
Click the Windows "Start" button and click "Windows Media Player" to launch the media player. Windows Media Player will recognize the SD card as a portable hard disk and display it in the left pane.
Step 3
Click the "Library" tab. You should see a list of songs in your WMP library. Click the "Sync" tab on the top to show the "Sync List" in the far right pane. Drag songs from your library to the "Sync List." Drag the songs in the "Sync List" up or down to set the playback order. To remove a song, click it and press "Delete."
Step 4
Click the "Start Sync" button when you are satisfied with your list. Windows Media Player uploads the music to your SD card.
Step 5
Close Windows Media Player when you finish. Click the "Safely remove hardware" icon on the system tray next to the clock. A new hardware window launches. Click your SD card in the hardware window, then click "Stop." When prompted, unplug the SD card from your computer.