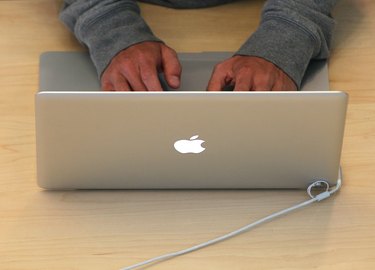 All Macs come with an application called "Preview" automatically installed. It is a powerful, lightweight document viewer and can view anything from a PDF document to a GIF image. Preview is also a powerful image editor. It has everything you need to edit any GIF image, and can do things like crop and rotate as well as make color and size adjustments.
Step 1
Use Spotlight to search for your GIF file. When you've found it, click it and the image will automatically open in Preview.
Step 2
Click the "Select" button at the top of the Preview window. Click and drag to select a portion of your image.
Step 3
Click "Tools" to open the Tools menu. You can make all of your edits from this menu. For example, if you'd like to crop the selection you just made, click "Crop" and your image will be cropped. To undo, go to "Edit" and "Undo."
Step 4
Go to "Tools" and "Adjust Color" to have access to the exposure, contrast, saturation, tint and sharpness of your image.
Step 5
Click "Tools," "Annotate" and select either "Add Oval," "Rectangle," "Arrow," or "Text." Click and drag on your image to overlay the shape onto your image.
Step 6
When you're finished, click "File" and then "Save" to save your work.