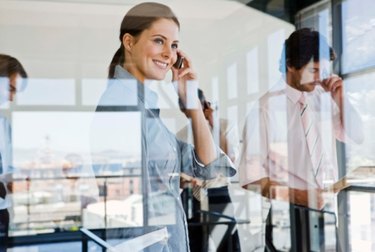 Glare happens when the flash from the camera hits a reflective and shiny surface. Mirrors, windows, and automobiles – basically any glass and metal – are present just about everywhere photographers take snapshots. Even in a natural environment, a pond or lake can produce glare in pictures. Light is a fundamental element in an image, but too little or too much can detract from the quality of the photo. If you have Windows, you can use a native photo-editing application to fix just the lighting elements in pictures with glaring imperfections.
Step 1
Click the "Windows" orb logo in the bottom-left corner of the desktop. Type "Photo Gallery" in the search box at the bottom of the "Start" menu. Press "Enter" to open the "Windows Live Photo Gallery" application.
Step 2
Click on "All Photos and Videos" in the left pane. Select "Pictures." Double-click on the photo that needs editing, when it appears in the center pane.
Step 3
Click the "Fine Tune" button in the "Adjustments" section, on the "Edit" tab.
Step 4
Select "Adjust Exposure" in the right pane. Pull the sliders in the "Shadows" and "Highlights" categories to adjust the photo until glare has been reduced to a likable level.
Step 5
Click "Close File" in the top right corner of Windows Live Photo Gallery to automatically save the edits.