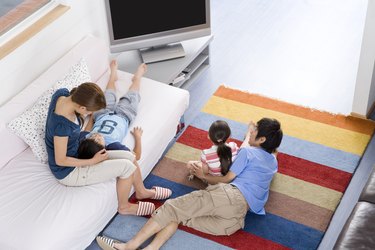 Closed captioning helps people with hearing problems by displaying text on the screen that corresponds with what people are saying on the television. Some restaurants and bars also use it so that customers can watch programs and know what is going on in a noisy room. If you have closed captioning enabled on your RCA TV, you can turn it off whenever you want.
Step 1
Press the "Menu" button on your remote.
Step 2
Navigate through the menus to find the closed caption feature. Different RCA TVs require you to use different buttons to navigate through the menu. Try pressing "Menu" again to get to different menus. If that does not work, try using the arrow keys.
Step 3
Highlight the closed caption feature and turn it "Off." This might be done with the arrow keys or the "Enter" key on your remote.