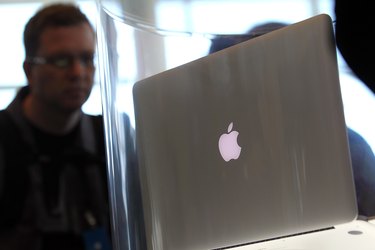 You don't need to export a PowerPoint presentation to open it in Apple's Keynote software. Keynote supports importing a Microsoft PowerPoint file directly to view or edit on your Mac. After you open the file in Keynote, you can make adjustments to the formatting and appearance of the slides. With Keynote, you can take your presentations anywhere. After you save the presentation in Keynote, you can also view or edit the presentation using your iPhone, iPad or iPod Touch.
Step 1
Launch Keynote on your Mac. Click the "File" menu and select "Open" from the drop-down menu.
Step 2
Select the "On My Mac" button and browse to the PowerPoint file you want to open. Select the file and click the "Open" button. A progress bar displays while Keynote processes the file.
Step 3
Review the information in the Warnings dialog box if it appears. It will list any incompatibilities encountered or substitutions made when Keynote converted the file. Check the list of warnings and review any changes to the slides identified in the Warnings dialog. You may need to adjust bullet points, add any removed audio files or accept any substitute fonts. In some cases, no Warning dialog box appears, because no substitutions were made or incompatibilities were noted.
Step 4
Run the presentation and watch closely for any variances between the Keynote presentation and the original PowerPoint presentation. If you see any, make adjustments to the individual slides affected. Edit the presentation as needed and save it.
Tip
Keynote supports most of PowerPoint's slide formatting options with the exception of importing a narration track.
Some nonsupported features include custom text options, including WordArt, hyperlinking screen tips, and image adjustments and effects.
You can upload a PowerPoint presentation to iCloud and then download the file to your iOS device or your Mac. When you open a PowerPoint document from iCloud on your Mac or iOS device using Keynote, it automatically converts the document to a Keynote file.
Warning
Information in this article applies to Microsoft PowerPoint 2013 and Keynote 6.2 for Mac OS X Mavericks.