The serial numbers you enter to register Adobe products are saved in the Windows Registry. However, locating these values using the Windows Registry Editor isn't enough, because the serial numbers are encrypted. You must use a program that can scan all serial numbers of Adobe products in your computer and decrypt them, then you can copy them for backup purposes.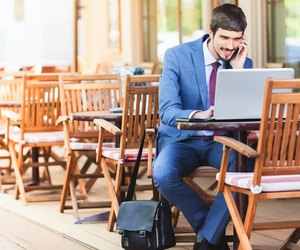 credit: Pilin_Petunyia/iStock/Getty Images
Using Belarc Advisor
Step
Go to the Belarc Advisor download page (see Resource). Click "Download" to download the installer.
Step
Run the installer and install Belarc Advisor to your computer. Once installed, the Belarc Analysis window will appear.
Step
Click "Yes" to analyze your computer for license keys. Wait a couple of minutes for the process to finish. Once Belarc Analysis starts scanning your local network, click "Skip This Step" to complete the process faster. Your default Web browser will open showing a report of the results.
Step
Click "Software Licenses" on the results page. The full serial numbers of your installed Adobe products appear in the Software Licenses section.
Using Recover Keys
Step
Go to the Recovery Keys download page (see Resource) and click the "Download" button associated with the operating system you are currently using. Run the installer and install Recovery Keys after the installer finishes downloading.
Step
Launch Recover Keys from the desktop. Click "Scan Local Computer" to let the application search for the Adobe keys in the registry. The process may take a few seconds or minutes, depending on the specs of your computer and number of license keys present.
Step
Examine the results and look at the "Value" field next to the desired Adobe program to see the serial number. Some applications like Acrobat X may not have the word "Adobe" in it, even though it is an Adobe product.
Step
Click the "Order Me" button on the toolbar and register the product, if you haven't done so. You must purchase the full version of Recover Keys if the "Value" field shows only four characters of the serial number.