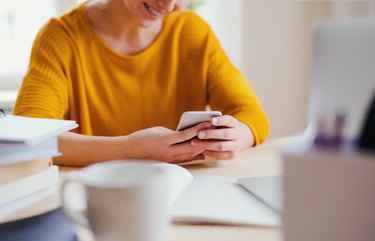 If you have someone's phone number but not their email address, you can use search engines and social media sites to try to find the corresponding email address. You can also send an email to a cellphone number, where it will be received as a text message, depending on the phone carrier the person is using.
Find Email ID by Mobile Number
Sometimes you will want to send someone an email and you will realize that you have the person's cellphone number but not an email address. One way to handle this is to simply call or text the person and ask for the best email address to use, but there may be times where you don't want to do this or the person isn't available.
In that case, you'll usually want to do some online research to attempt to find the person's email address. One option is to search for the phone number in a search engine such as Google or Bing, looking for a website that lists the person's email address side by side with their phone number. This could be a directory site, a personal or business website or a blog.
If that doesn't turn up anything useful, you can also search popular social networking sites such as Facebook or LinkedIn to see if a profile is associated with the phone number. If you find a profile, you can either message the person through the social networking site or look for an email address listed on the profile.
Remember that it's often useful to search for different possible formats for the phone number, such as separating the area code from the rest of the number by a hyphen and wrapping it with parentheses.
Find Email By Name
If you have someone's name as well as their phone number, it's often much easier to find the person's email address. Search for the person's name on your search engine of choice or on a social networking site. Use additional information such as the city where the person lives or their occupation or business name if you have it to narrow down your search. Look for websites or social media profiles that indicate the person's email address.
You can also use email finder tools once you have someone's name in order to locate a valid email address.
If you don't have someone's name or only have a first name or nickname, you can first use a people search engine such as Zabasearch, Intelius or Whitepages to find the person's name from their phone number.
Cell Phone Number Email Address
If you simply can't find somebody's traditional email address and want to send that person an email, another option is to see if the person's cellphone provider includes email accounts with the phone number. Many U.S. carriers provide an email address for each cellphone customer, and when you send an email to these addresses, they will show up on user phones as if they had been sent by text message.
First, if you don't know what cellphone provider the person uses, use a carrier lookup tool to determine this. Then, search to see what the email address format used by the person's cellphone carrier is. For instance, you can email a T-Mobile user at [phonenumber]@tmomail.net and a Verizon customer at [phonenumber]@vtext.com or [number@vtext.com]@vzwpix.com for multimedia messages.
Try to send short emails to a person's cellphone with minimal formatting, since emails may not look the same as you expect when they're shown as text messages. Also keep in mind that the person you email this way may have to pay to receive your message if they don't have unlimited text messaging or unlimited data to download any attachments.