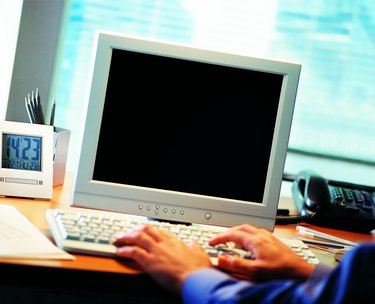 Finding the specifications for your monitor will help you determine the maximum resolution you can use for the display. Monitor specifications can include the refresh rate and the various resolution sizes which are supported by the device. You can see basic monitor specifications by viewing the monitor's display properties in the control panel or use a software program, such as SiSoftware's Sandra.
View Display Properties
Step 1
Click the "Start" menu and then select the "Control Panel" icon.
Step 2
Double click on the "Display" icon.
Step 3
Click on the "Settings" tab.
Step 4
Move the slider for the screen resolution section to see the various resolutions available for your monitor.
Step 5
Click the "Advanced" button and then select the "Monitor" tab.
Step 6
Click the screen refresh rate drop-down menu under "Monitor Settings" to see the available refresh rates for your monitor.
Use SiSoftware Sandra
Step 1
Download and install SiSoftware Sandra. Save the file to your desktop and then double click the file to run the installation wizard.
Step 2
Double click the "SiSoftware Sandra" icon on the desktop to open the program.
Step 3
Select the hardware tab and then double click the "Displays and Adapters" icon.
Step 4
Select "Monitor" from the class drop-down menu and then choose your specific monitor from the device drop-down.
Step 5
Move the slider down on the right side of the window to see all of the information about your monitor.
Tip
Information about the specs for your monitor can also be found on the sticker located on the back of the device.
The refresh rate is the number of times per second that the video hardware is sending data to the monitor.
Warning
Incorrect information will be displayed if you select the wrong monitor when more than one monitor is installed.