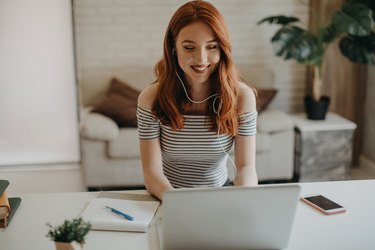 Facebook is an excellent tool for staying in touch with friends and family members, but a social network can never replace the many benefits of in-person interaction. You can use Facebook's Nearby Friends feature to alert you when one of your favorite Facebook friends is nearby.
Finding Nearby People on Facebook
If your first feeling when you hear about Nearby Friends is concern, don't worry. Chances are, people can't see your location unless you allow it. If you don't want to be visible, there are steps you can take to make sure your location stays hidden. Use the same steps to change your location to visible if you want to participate in Nearby Friends.
On an iPhone or Android phone, go to Settings > Privacy > Location Services. Toggle Location Services to On if you want your device to be discoverable and Off if you don't.
Once you've enabled location services, go to the Facebook app and click the three horizontal lines in the lower-right corner of your device screen. Select Nearby Friends.
Toggle the switch to the right if you want to turn on Nearby Friends. Toggle it to the left if you want to turn off this feature.
When the feature is enabled, you see a list of your closest friends and their images on a map. It's important to note that you only see the friends who have also gone through the steps of enabling Nearby Friends and turning on Location Services. If you have specific friends you want to locate, you need to ask them to turn on the feature.
Contacting Nearby Friends
After you locate your friends, it's time to reach out. If you're close in proximity to one another, you may want to track them down physically. You can choose to reach out to them via text or phone call if you have their cell numbers, but you have all the tools necessary to reach out within Facebook.
When you click on the name or photo of a nearby friend, you have two options. You can wave, which is a great option if you see a Facebook acquaintance who isn't necessarily an in-person friend. The other option is to use Messenger to reach out, which you can do directly from the Nearby Friends feature. Keep in mind that not everyone has Messenger set up to notify them of a new message, so they may not see your message until you're no longer nearby.
If you're meeting someone, you may find the location-sharing feature built into Facebook more helpful. This feature is also in Nearby Friends, but instead of merely looking for people near you, you're sharing your device's GPS location with the friend you're meeting. The app prompts you to choose a time limit for sharing your location with your friend, so you don't have to worry about continuing to be visible after your meetup is over.
Facebook isn't the only technology that lets you share your location. If your friend has the same type of device as you (iPhone, for instance), you can share your location in your phone settings. Waze is another great tool for sharing your location. Tap on the arrow at the bottom of the screen while you're in transit, and your friend receives a notification that your location has been shared.
When you aren't using Nearby Friends or location-sharing, you may want to turn off location services, at least for the Facebook app. You can set it to monitor your location only when you're using the Facebook app. This is a good way to protect your privacy while also ensuring you maximize the benefits of social media.