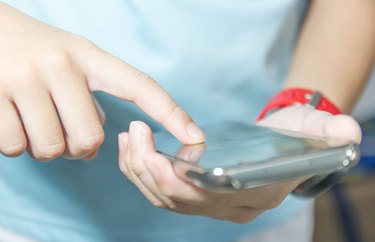 Losing a cell phone is no fun, especially if calling it doesn't lead you to it. The good news is, there are some tools that can help you track it down. Although you can use a cell phone detector app to find your phone, often the feature is already built into your device. The process varies from iPhones to Android devices.
Cell Phone Detection Techniques
There are a variety of reasons you might need to find a hidden cell phone somewhere in your vicinity. One is simply that a member of your household has misplaced a phone. Using your own phone, you can sometimes track down a lost phone. It doesn't always work, but it's worth a try.
The first tool to use is your device's tracking feature. If the phone doesn't show up, you can try social media or a third-party app. The owner of the phone will need to have allowed other devices to track the phone, which is why you may not be able to find it through using an app. If the device is turned off, it may be untraceable.
Before you launch into more complex cell phone detection techniques, start with the easiest step. Most modern cell phones have the built-in ability to search for nearby devices using Bluetooth technology. It may not work in every case, but since it's the easiest step, it's worth a try.
To detect hidden cell phones on an iOS device, follow these steps.
Track down the "Find My" app from the main screen. If you don't see it among the icons, search for it.
Open it. You'll see a list of all nearby people who have shared their location with you. If you're on the same cell phone plan, this should be enabled by default.
Locate the phone on the map and find it.
If your phone uses the Android operating system, do the following.
Open "Settings."
Tap "Google" and "Device connections."
Select "Nearby."
If you don't see any devices, move around the area. Nearby has limited range.
Some apps have the ability to search for people who have the same app. Facebook can serve as a cell phone detector app, as long as both you and the member who owns the cell phone have it enabled. To find nearby Facebook members, click on the three horizontal lines in the bottom-right corner of your Facebook app. If the owner of the hidden cell phone you're seeking is on Facebook and has enabled this feature, you can click on Nearby Friends and see the device on a map.
Facebook isn't the only cell phone detector app, though. There are plenty of others, including Zingr, which lets you send a message to those who are nearby. If you're interested in making new friends, this will help you do so through your cell phone.
Find Cell Phones Using Hardware
Sometimes your cell phone detection techniques have nothing to do with finding a lost phone or discovering people nearby. If you're trying to host a big event and you want to make sure attendees aren't violating the no cell phone policy, for instance, there are tools that can help you with that. Security teams can also use these tools to track down lost cell phones at highly populated locations like college campuses and arenas.
These tools have the ability to detect radio frequencies to let you know when a device using GPS or Wi-Fi is nearby. They are typically used to track down if an area has been bugged, so they may not be as effective in finding that lost cell phone. For best results, use the highest sensitivity setting and make sure you remove all sources of interference before you start searching.