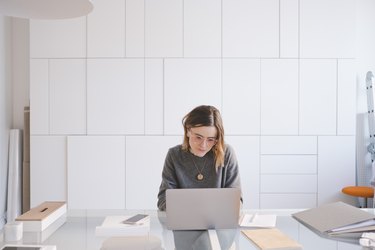 Unless you've lived in the same home since birth, you have an address history. In most cases, you can forget all those past addresses, but every now and then, an employer or landlord will ask you to recall where you've lived previously. There are various services you can use to look up a previous address for yourself or someone else, including paid solutions for businesses and free online searches for personal use.
Previous Address Verification for Business
"Find my previous addresses" typically comes up for renters and job applicants. Although someone can provide a previous address on an application, that doesn't mean the information is valid. For that reason, many businesses feel the need to verify applicants' previous addresses, particularly in the case of someone who needs to check with previous landlords on potential renters.
There are many services that can help landlords easily gain address history information on applicants. If you routinely screen for address information, it may be worth investing in a service like MyRental or RentPrep. However, if it's only an occasional need, you can always pick up the phone and call previous landlords. For businesses interested in verifying information on job candidates, it may be necessary to pay for a more comprehensive service like GoodHire and AccurateNow.
Find Your Own Previous Addresses
Often your goal is simply to find my previous addresses, likely for a job, rental or mortgage application. Once you've checked your own paperwork to no avail, the next easiest step is to get in touch with your bank and simply ask. If you've been with the same bank through multiple address changes, you should be able to get that information, although you may need to answer some security questions or, if you visit a branch, present an ID before they'll help you.
Another easy way to get your own address history is to pull a credit report. You're entitled to one free credit report a year, which you can request through AnnualCreditReport.com. If you can't find your previous addresses there, search your name online and a site like AnyWho.com should be able to help.
Find Previous Addresses of Someone Else
For security and privacy reasons, getting the address history of someone else isn't always easy. This is especially true if the person has deliberately made an effort to stay off the grid. However, if you know the city and state where the person lives, as well as identifiers like a middle initial and all maiden and married names, you'll probably be able to track the information down through a free online search.
AnyWho.com is good for looking up someone's information, whether you're conducting previous address verification on an applicant or you're just being nosy. WhitePages.com is also a great resource for digging up addresses. If you have a phone number for the person you're trying to find, typing the phone number into Google may unearth previous or current addresses.
Meaning of Previous Addresses
If you've typed "find my previous addresses" into Google, chances are you're being asked to list them on an application. In that case, you'll want to know exactly what information someone wants on you. Often landlords or potential employers are more interested in how long you've stayed at each location, rather than where your residences were actually located, since moving often can be a red flag that someone may not stay around long.
Another thing to be aware of, particularly if you're applying for a mortgage or lease, is that the addresses you enter may be checked. Previous address verification may include picking up the phone and calling your previous landlords, which can be a problem if you didn't leave on the best of terms. This is why it's important to do what it takes to leave a lease in good standing to avoid a bad background check.