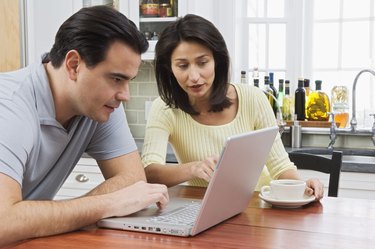 As you navigate through the Web, you may find a website that interests you and that makes you want to know who the owner is. Perhaps the site has information that you want to ask questions about, or maybe you like the features on the pages and want to ask how it is done. Using an online resource and/or the pages of the site, you can find the creator of a website to get the information that you desire.
Step 1
Access a website that can query the WHOIS database, such as Whois.com, and type the website address without the "http://www" in the "Enter Domain Name" text field (for example, "domain.com"). The WHOIS database is a directory containing the names and contact information of people who own website addresses (domain names).
Step 2
Click the box next to the extension, such as ".com" or ".biz," in the "Choose your extension" section and click the "Search Now" button when done.
Step 3
Scroll down to the "Choose from the following Domain Names" section and click the "Whois" link next to the correct URL.
Step 4
Enter the displayed security key in the text box provided and click the "Search" button. The resulting page provides the domain owner's name and contact information.