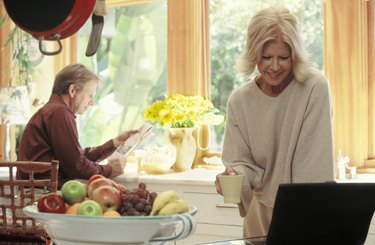 Spam messages accounted for 66 percent of all email sent in the first three months of 2014. If your friends are telling you they are receiving spam from your email address, you need to fix the situation. Send your contacts a courtesy email, telling them that you think you've been hacked and to not open suspicious emails from your address. In addition to changing your password, you should make sure your computer is free of malware and that your email settings haven't been changed.
Scan Your Computer
Step 1
Update and then run an anti-virus program. You can choose from a wide variety of free options, including Bitdefender Antivirus Free, Ad-Aware Free Antivirus or Panda Cloud Antivirus (see Resources).
Step 2
Run an anti-malware program. Your computer might be infected with malware that an anti-virus program is not going to detect. You can use free anti-malware software from MalwareBytes, Windows Defender or AVG Antivirus Free.
Step 3
Install any Windows updates. Updates include fixes for known security threats, so it's important to keep Windows up to date. To find out if any updates are available, click the Settings charm, click "Change PC Settings," click "Update and Recovery" and click the "Check Now" button.
Change Your Password
Step 1
Change your Gmail password if your Gmail account has been hacked. Log in to Gmail, click the arrow by your account name, click the "Account" link, click the "Security" tab and click "Change Password." Type in your current password. Type in a new password twice and click "Change Password."
Step 2
Change your Yahoo password if your Yahoo account has been hacked. Sign in to Yahoo and click "Change Your Password." Type in a new password and confirm it. Click "Continue" twice.
Step 3
Change your Outlook.com password if your Hotmail or Outlook.com account has been hacked. Log in to your Microsoft account and click "Security and Password." Microsoft needs to send you a security code, so select an email address from the first drop-down menu and then type in that email address in the next field. Click "Next." Check that email account for an email from Microsoft. Open it and copy the security code. Paste it into the Code field. Click "Submit." On the Protect Your Account screen, click "Change Your Password." Type in your current password. Type a new password twice and click "Save."
Check Email Settings
Step 1
Verify that the sending name and reply-to address for your email are correct. Review your filters for unknown filters or ones sending email to the trash. A scammer could have changed these values to redirect your email.
Step 2
Check your signature. A spammer could have inserted phishing links into your signature.
Step 3
Review your contacts. Get rid of any unknown contacts. Double-check that existing contact information is correct.
Tip
Strong passwords use eight characters or more and a mix of uppercase and lowercase letters, numerals and punctuation marks. Make passwords memorable so you aren't tempted to write them down. One trick is to come up with a sentence and use the first letter of each word for your password. For instance, "The quick brown fox jumps over the lazy dog" becomes "tqbfj0tld!" You can use the Windows password checker to help you create a strong password.
Warning
To protect your email account, don't download software from unknown publishers. It could contain keylogger malware. Don't reuse your password. If hackers access one site and you reuse that password elsewhere, they now have access to your other accounts. Don't give your account information to other people, whether through an email or over the phone.