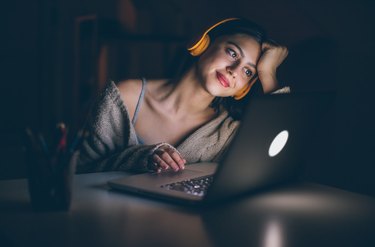 Offering one of the largest catalogs of streamable anime and Asian drama, Crunchyroll has become one of the most popular streaming services for fans of Japanese media and Asian pop culture overall. Its selection of new and classic titles, along with simulcasts of shows currently on air have helped the site swell — to the point that Crunchyroll now serves over two million paid subscribers.
However, whether you're a premium member or one of over 35 million users watching the site's free offerings, it's likely that you've found yourself in a situation where Crunchyroll keeps freezing. Though choppy playback is a common problem on Crunchyroll, it can be fixed through a variety of methods, depending on the device you're using.
Why Crunchyroll Keeps Freezing
Crunchyroll offers video streaming on desktop computers through its main website, and on mobile devices as well as most major game consoles through native apps available for download on each platform's store. Though streaming video through Crunchyroll's console apps tends to result in the most consistent video streams, Crunchyroll buffering problems can plague any system.
While the reasons for choppy playback issues can vary wildly from user to user, generally, the problem links back to one of two root issues: either there is an internet connection issue, or there is an issue with the native Flash player Crunchyroll uses for its desktop video streaming. Both of these root problems can lead to choppy playback, long buffering times or playback stopping completely in the middle of a video.
Solving Crunchyroll Mobile and Console Buffering
Issues with Crunchyroll on mobile devices, consoles and streaming sticks can be annoying — but thankfully they can be resolved quickly in most cases. On any non-desktop platform, the fastest method to solve a choppy playback or buffering problem is to close out of the Crunchyroll app entirely, reset your device's internet connection and then restart Crunchyroll.
On mobile devices where this solution may not work, it is also possible to reduce the video quality via the Account Settings menu — if you're subscribed to Crunchyroll Premium. In a worst-case scenario on a mobile device or game console, you can uninstall the Crunchyroll app, reinstall it and log back in: this will usually solve the problem, by forcing the app to install its latest version.
Crunchyroll Desktop Solutions
While Crunchyroll buffering problems on desktop browsers can be linked to an issue with an internet connection, most often choppy playback is the result of Crunchyroll's desktop video player using Adobe Flash as its base framework.
While Flash has been a powerhouse for online services for over a decade, the general adoption of HTML5 as a video player framework has led to most desktop internet browsers phasing out or entirely dropping their support for the plugin, like mobile browsers did in the past (consequently, this is why Crunchyroll video streaming cannot be done through a mobile device's browser: Android and iOS devices no longer support Flash). This has led to many users, particularly on newer computers, experiencing choppy playback.
Crunchyroll staff have promised that an official HTML5 video player is on its way, in part due to Adobe's plans to retire the Flash plugin in 2020, but until its release the most effective solution for desktop viewing is to use an unofficial HTML5 player via a browser add-on — or, if your computer runs Windows 10, by using the official Win10 Crunchyroll app.
These are available for download through the Firefox, Chrome and Windows 10 app stores, and can be found by searching "Crunchyroll." Upon installing the browser apps, videos on the Crunchyroll site will stream through the unofficial player. This should resolve choppy playback issues entirely.