Choppy playback on Crunchyroll is likely caused by one of two issues. The first is that your Internet connection may be bogged down or simply not fast enough to support high quality video streaming. The second is that your computer's hardware may not be powerful enough to process the files you're trying to stream. If you have a supported graphics card, you can enable hardware acceleration in your account settings to relieve your overtaxed CPU. If not, you need to lower your video quality settings to experience smooth playback.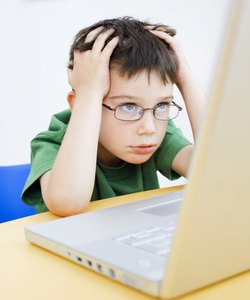 credit: Polka Dot/Polka Dot/Getty Images
Lower Video Quality Setting
Step
Sign in to your Crunchyroll account on your computer.
Step
Click the down arrow next to your account icon in the top right corner of the window and click "Settings."
Step
Click "Video Preferences" from the Account Settings section in the left pane of the window.
Step
Click the Default Video Quality drop-down menu and select "480p" to lower your account's default to DVD quality resolution or "SD" to lower your account's default to standard definition. A lower video setting uses less of your system resources and performs better on slower network connections.
Enable Hardware Acceleration
Step
Check the Crunchyroll Video Help Guide (see Resources) to verify that your computer's graphics card is compatible with hardware acceleration.
Step
Download the Uninstaller for Flash Player from Adobe. Close any open browser windows and run the utility to completely remove the current Flash Player program from your computer.
Step
Install the latest version of the Flash Player from the Adobe website.
Step
Log in to Crunchyroll and access your account's video preferences as described in the previous section.
Step
Select "Enabled" from the drop-down list next to "Default Full Screen Hardware Acceleration."