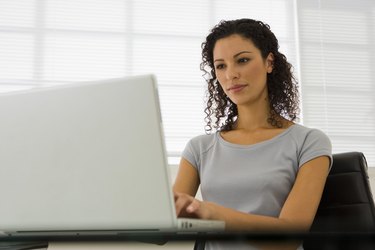 Altering the display settings in Windows can make the screen visibility more accessible to people with poor vision. This process of dramatically altering the color and contrast settings of Windows is called color inversion. It is important to note that enabling color inversion in Windows is not permanent. Below are steps to enable or disable the color inversion setting through the Windows Control Panel.
Step 1
Open your Start menu in Windows and select the Control Panel option. Select the Accessibility Options category from the menu.
Step 2
Click on the first "Task" in the Accessibility Options menu, which reads "Adjust the contrast for text and colors on your screen;" this will open a new window.
Step 3
Toggle the box next to the words "Use High Contrast." If the box is checked, it will enable color inversion--unchecked is the standard color scheme.
Step 4
Click the "Apply" button in the bottom-right corner of the window to enable the selected color setting.
Things You'll Need
Computer

Monitor

Mouse

Keyboard

Windows XP
Tip
A quick keyboard shortcut can be used by pressing the combination of the Windows key+C to open the Control Panel menu.