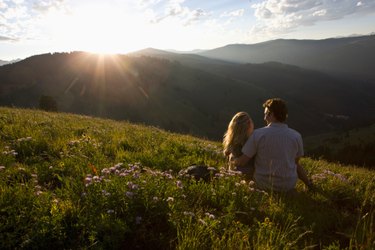 GIMP (GNU Image Manipulation Program) offers the ability to edit images and graphics by adjusting colors, exposure and brightness. Like most image-editing programs, the software offers pencil, pen and brush tools that you can use to add decorations. If you wish to correct an overexposed picture using GIMP, you can decrease the brightness, add a duplicate layer with higher opacity or use the auto-levels tool to bring the highlights and shadows towards proper exposure.
Step 1
Double-click on the GIMP icon to open the program. Click on the "File" menu, and then scroll to "Open." Select the overexposed picture by highlighting it and pressing "OK."
Step 2
Click on the "Tools" menu. Select "Color Tools" followed by "Levels." Check the box next to "Auto," and then press "Okay." This corrects the exposure using the auto-levels tool. If you are unsatisfied with the correction, click on the "Edit" menu and scroll to "Undo."
Step 3
Open the "Tools" menu by clicking on "Tools." Scroll to "Color Tools," and then select "Brightness-Contrast." Decrease brightness by moving the "Brightness" slider towards the left.
Step 4
Navigate to the "Layers" box. Right-click on the layer titled "Background." Scroll to "Duplicate Layer," and then release the right mouse button.
Step 5
Click on the "Mode" drop-down menu and select "Multiply."
Step 6
Drag the "Opacity" slider to the right to increase the brightness of the image.