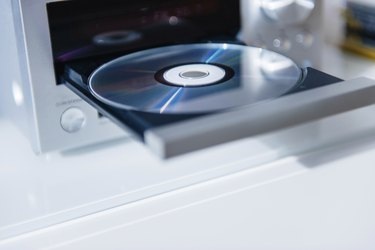 Saving data to a rewriteable DVD enables you to transport or share data in a convenient package that's flexible too. You can format a DVD in either mastered format or the Live File System. A mastered DVD acts like a read-only disc once it is finalized. The Live File System behaves more like a memory stick, in that you can read, write and erase data on the disc without a formal DVD burning step. Rewriteable DVDs can be erased and formatted many times using File Explorer in Windows 8.1
Step 1
Open File Explorer by pointing to the upper-right corner of your screen and moving the cursor down. Click "Search" and enter "file explorer" in the search box. Click "File Explorer" in the results.
Step 2
Click "This PC," then select the DVD drive with the disc you wish to format. A write-protected DVD-RW disc can be reformatted after being erased. Right-click the DVD drive and select "Erase" from the drop-down menu. In some cases, you may need to erase individual files or folders from the right pane.
Step 3
Click the DVD drive icon in the left pane, once all contents are erased, and the Burn a Disc dialog will open. Enter a title for your DVD if desired, then select your format method. "Like a USB flash drive" uses the Live File System to allow saving and editing as you work, and "With a CD/DVD player" creates a disc that works as a read-only disk until you erase and format it again. Click "Next" after choosing your format, and the format process begins.