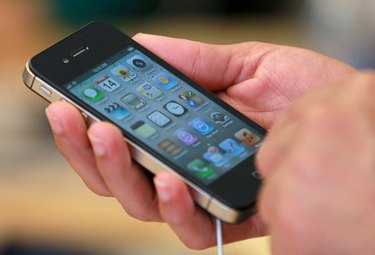 The iPhone is a popular cell phone manufactured by Apple. Apple tends to release new versions of the iPhone on a regular basis. This means that after iPhone owners upgrade their phones, they are likely to have to sell or give away their old models. Before you give up your iPhone, you will want to format it, which involves resetting the phone and deleting all of its data. This can be done by using the built-in iPhone settings.
Step 2
Tap the "Settings" button on the Home screen of your iPhone.
Step 3
Tap the "General" tab. This opens the general settings of your iPhone.
Step 4
Scroll to the bottom of the "General" settings window and tap "Reset."
Step 5
Tap "Erase all content and settings." A warning will pop up indicating that all media, data and settings will be erased and reset. Tap "Erase iPhone" to format the entire iPhone.
Tip
Fully charge your phone before formatting your iPhone; the process could take a long time depending on how much data you have stored on your phone.
Warning
Formatting your iPhone will erase all data and restore it to the original factory settings.