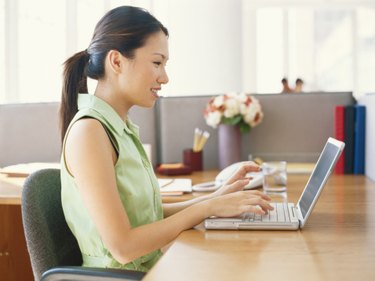 If you use LinkedIn (linkedin.com) for professional networking, posting regular status updates is an excellent way to inform your network about your activities and maintain visibility across the site. The updates you post display on your profile as well as on your connections' homepage in the All Updates section. Although you can't apply traditional formatting such as bold and italics to an update, you can attach links and images to add content and visual interest.
Step 1
Type your update in the Share an Update box on the LinkedIn home page. You can enter up to 600 characters in this text box. If you want to share your update on Twitter, limit its length to 140 characters. Twitter deletes anything that exceeds this length.
Step 2
Click the "Attach a Link" link if you want to link to an external URL.
Step 3
Type the complete URL in the text box -- beginning with http:// -- and click the "Attach" button. LinkedIn locates this URL and displays a title, description and image from the content it finds on this page.
Step 4
Click the "Edit" link if you want to change the default content. For example, you can revise what displays in the title or description boxes or select a different image. To select a new image, click the right arrow below the default image until you find the image you want to use. LinkedIn searches for images on the Web page you're sharing and displays them as options.
Step 5
Click the down arrow to the right of the "Visible To" drop-down list to select who can see this update. You can share with all LinkedIn users or only with your connections.
Step 6
Select the check box to the left of the Twitter button to post your update on Twitter. If you haven't set up LinkedIn to integrate with Twitter yet, LinkedIn prompts you to do so.
Step 7
Click the Share button to post your update. LinkedIn users who view your update can like it, comment on it or share it with their own connections.
Things You'll Need
Computer with an Internet connection

LinkedIn account
Tip
You can also post an update on the Edit Profile page. To open this page, select "Edit Profile" from the "Profile" drop-down menu on the top navigation bar.
When posting updates, don't focus exclusively on self-promotion. Balance promotional posts with updates that provide value to your network, such as sharing interesting and informative news articles.