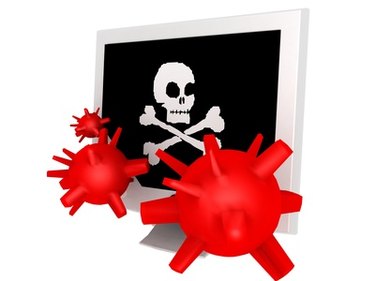 Realtek's Boot Agent is a free application that lets advanced PC users customize computer start-up options. However, because it alters the operating system itself it is prone to viruses or other problems. The first step to a solution if a virus has infected your computer is to uninstall the boot agent itself. If problems persist, the boot agent may have placed a permanent virus on your computer, which can be dealt with through Microsoft software.
Uninstalling the Boot Agent
Step 1
Open the Control Panel from the Start menu.
Step 2
Select "Add/Remove Programs."
Step 3
Select the "Realtek Boot Agent" in the list of applications that appears.
Step 4
Click "Change" or "Change/Remove" and select "Remove."
Step 5
Follow the on-screen instructions to fully uninstall the Boot Agent. If problems persist, continue to the next section.
Removing a Virus
Step 1
Run Microsoft's Malicious Software Removal Tool by selecting "Run" in the Start menu and typing "MRT." This tool comes with Windows 7, Windows Vista, Windows XP, Windows 2000, and Windows Server 2003. If you cannot find it, you can download a new copy from the link in Resources.
Step 2
Click "Next" at the opening screen.
Step 3
Select "Full Scan" to scan your entire hard drive. While this takes more time than the "Quick Scan," this is your best chance of removing any virus the Realtek Boot Agent has installed on your computer.
Step 4
Click "Next" and wait for the progress bar to fill up.
Step 5
Follow the prompts that appear to remove viruses and repair your system.
Step 6
Click "View detailed results of the scan" when the process is complete.