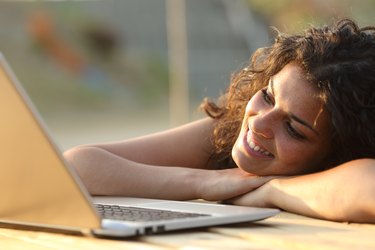 Choppy playback in VLC Media Player may occur for a number of reasons; however, the most common problem is usually associated with the buffer time (caching value) for a specific type of file, as VLC must load a certain amount of information before playback begins. For example, VLC may play files stored on your computer smoothly, but have difficulty with DVDs or streaming Internet videos. You must first determine the kind of file affected during playback so you can adjust VLC's preferences accordingly. It is recommended you download the latest version of VLC Media Player, as outdated versions may be affecting playback on your system.
Step 1
Open your Internet browser, visit Videolan.org and click the "Download VLC" button to download the latest version of VLC Media Player. Double-click the ".exe" or ".zip" file and follow the on-screen instructions to install VLC to your computer. Agree to the terms of use and launch VLC Media Player.
Step 2
Re-open your video in VLC. If playback is choppy, press the "Media" tab and select "Preferences." Click the "All" button in the "Show Settings" portion of the screen to display VLC's advanced preferences.
Step 3
Click the "Input/Codecs" drop-down arrow and select the "Access Modules" drop-down arrow. Click the icon for the file type being affected. For example, click one of the "DVD" options if having trouble playing DVD files or "HTTP(S)" if having trouble with streaming Internet files. If having trouble with video files on your computer, click "File."
Step 4
Press the "up" arrow in the "Caching Value" field to increase the buffer time for the affected file type. By default, most file types are set at 300 milliseconds (0.3 seconds). Try resetting your caching value to 600 or 1000 milliseconds. Click "Save," restart VLC Media Player and try re-opening your file.
Step 5
Enter VLC's advanced preferences window and click the "Video" drop-down arrow. Select "Output Modules." Click the "Video Output Module" drop-down box and choose "DirectX 3D." Click "Save" and re-open your file.