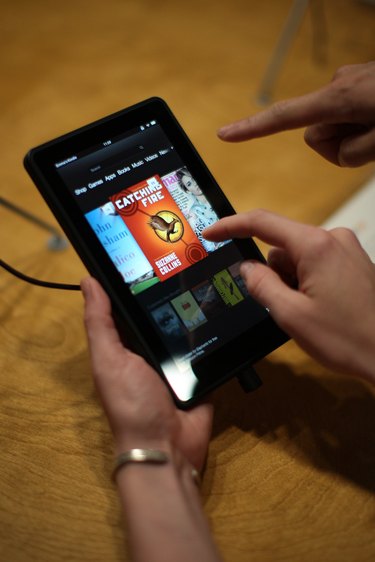 Amazon's Kindle Fire HD tablets run on the Android operating system, so they can run any Android app. But the only app store available on the Kindle Fire HD is the Amazon Appstore which, as of the date of publication, doesn't have Snapchat available. However, you can download and install the Snapchat app manually in a process known as sideloading. Sideloaded apps will not update through the normal app process, meaning that you will have to manually apply any updates as they are released.
Step 1
Unlock your Kindle Fire HD. Drag down the notification tray by swiping from the top of the screen down.
Step 2
Tap "More," choose "Devices" and switch "Allow Installation of Application From Unknown Sources" to the "On" position.
Step 3
Download the Snapchat APK file to your computer (see link in Resources).
Step 4
Install a file manager app on your Kindle Fire HD, if you don't already have one. Use the Amazon Appstore to select a file manager (see link in Resources). Some options are "ES File Explorer," "File Manager" and "Android File Manager."
Step 5
Connect your Kindle Fire HD to your computer with a USB cable. Wait for your computer to recognize the Kindle, then copy the Snapchat APK to the Kindle. Once the file has finished copying, disconnect the Kindle from your computer.
Step 6
Launch your file manager on the Kindle Fire HD. Find the Snapchat file you transferred and open it. The Kindle will ask you if you want to install the app. Confirm your selection and Snapchat will be installed on your Kindle.