Scroll lock is one of the more esoteric settings on a computer keyboard today. It's often the third light on a keyboard, represented by a down arrow with a line under it on the keyboard. Turn the scroll lock light off by hitting the scroll lock button to toggle scroll lock mode itself off.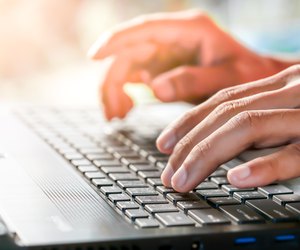 credit: undefined undefined/iStock/GettyImages
How Scroll Lock Works
Scroll lock is a mode on a computer that adjusts how scrolling through a set of data works.
Originally, when scroll lock was introduced in the early 1980s, scroll lock was set up to adjust whether using the arrow keys on the keyboard would scroll the page or simply move the cursor. When scroll lock was activated by hitting a scroll lock key on the keyboard, only the cursor would move. The key quickly became standard on PC keyboards.
Today, it's still used by some programs, though computer mice and scroll wheels have made it less applicable than it once was. In Microsoft Excel and other spreadsheet programs, turning scroll lock on will cause the arrow keys to scroll a spreadsheet up and down rather than moving from one cell to another. This can be more efficient if you want to jump through the spreadsheet while keeping a particular cell selected without having to reach for the mouse.
Some people and programs use the scroll lock key for totally different purposes, essentially using it as a spare key on the keyboard. You can remap the key to another purpose in most operating systems and in some particular programs.
Toggling Scroll and Other Locks
Many keyboards have a "Scroll Lock" key, a "Caps Lock" key and a "Num Lock" key and a corresponding light for each lock key. The light comes on when the lock mode is on.
Find the "Scroll Lock" key on your keyboard and press it to turn scroll lock on or off. On some keyboards, it may be present as a second function you can access by holding down the "Fn" or "Function" key. Do the same for caps or num lock.
What the Other Locks Do
When caps lock is enabled, each letter you hit will generally come out capitalized. This is often easier for typing a long string of capitalized text than holding down the shift key.
Num lock means that the number keypad will work to type numbers rather than as an extra set of arrow keys. It's only present on keyboards with a number keypad, so it's absent on many laptops.
Some programs may use any of these keys for other purposes, and some people purposely set their computers to use the keys for other purposes.