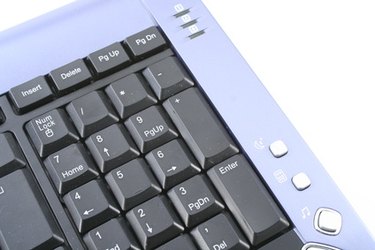 On a desktop, or any complete keyboard, the number lock function is pretty cut-and-dry. You turn on the number lock to use the number pad as numbers, and turn it off to use the pad as arrows. Since laptop keyboards don't have a number pad, it gets a little more complicated--if the number lock is on, certain letter keys can't be used. Hewlett-Packard further complicated this problem by making the number lock button a secondary function, so the button is difficult to find. Luckily, if you can't find the button, or your HP laptop doesn't have one, you can use the Windows integrated on-screen keyboard to turn the number lock on and off.
Keyboard Method
Step 1
Press and hold the "Fn" button. The button should be located in the lower left side of the keyboard, next to the Windows button, and is blue.
Step 2
Press the button labeled "Scroll." It will be on the top row, and should be the fourth button from the right. In a blue box under "Scroll" it should read "Num lk." If your model of HP laptop has a number lock light, it will now turn on.
Step 3
Release the "Fn" button and try typing the letter "J." If a "J" comes up instead of the number "1," your number lock is now off.
On-Screen Method
Step 1
Click on the "Start" button on the bottom left side of the screen.
Step 2
Click on "All Programs," then move your mouse over "Accessories" followed by "Accessibility" and finally click on "On-Screen Keyboard." If you use Vista or a later operating system, you can type "On screen keyboard" into the search function and then click on the program when it appears.
Step 3
Click on the number lock button, shown as "NLK" just above the number pad on the right side of your on-screen keyboard. When the button turns gray, the number lock is off.