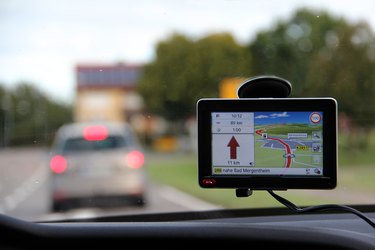 In an era of Waze and Google Maps, navigation devices still have a place. Devices like TomTom and Garmin remain popular with those who don't own smartphones, as well as those who have limited data and don't want to use it on navigation. If you own a TomTom device, you can take advantage of TomTom updates free download options by installing the TomTom software and connecting your device, at which point you'll get any free map updates, as well as updates provided by other device owners.
Free Lifetime TomTom Map Downloads
Unlike a smartphone, the maps on navigation devices don't routinely update. That means you'll have to install TomTom's software on your computer to get the TomTom maps download. If you purchased a TomTom with lifetime maps, these updates are free for as long as your device remains supported by TomTom. Over time, older equipment won't be powerful enough to run the latest maps, at which point you'll be offered a discount on newer equipment.
For those who have a supported device with lifetime maps, getting the TomTom updates free download means connecting your TomTom to your computer. Once you have the software installed, plug your TomTom into your computer using a USB cable and wait. The map download should start automatically.
TomTom Map Hack
If you don't have lifetime updates, you may find that there are sites promising a TomTom map hack. These sites say they have free maps. It's important, though, to note that installing unverified software from third-party users could harm your computer. You'll find it's well worth the small cost to pay for a map upgrade to avoid malicious software destroying the contents of your hard drive.
Instead of paying for a TomTom maps download, you can get support through something called Map Share, a crowdsource-based reporting tool available to device owners. This information is reported by members on an ongoing basis and includes data like speed limit updates, street and directional changes, blocked roads and changes in turn restrictions. To get these updates, you'll merely need to connect your device.
Cost of TomTom Maps
Instead of trying to find a TomTom map hack, those who don't have lifetime map updates can pay for a TomTom maps download. A one-time update costs about $50, or you can pay less than $20 more for one year of unlimited map updates. If you take your TomTom outside the U.S., you'll have to pay slightly more for maps of Canada and Mexico in addition to those that cover the U.S.
If TomTom came installed in your car, you may want to check with your car dealership. TomTom comes preinstalled on a variety of vehicle models, including Suburu, Mazda and Jeep. These updates are typically handled through an SD card, but you may also be able to get the update through your vehicle manufacturer's website. Even if you aren't eligible for TomTom updates free download, your dealership can direct you on any options you have for updating your in-dash system.