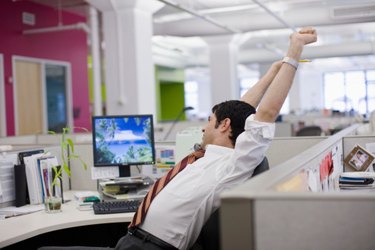 Windows 7 features preset screen resolutions for a variety of monitor types. The resolution options available through the standard Control Panel interface will work for most users, but sometimes you need something a bit different. The process for changing your screen resolution to a non-standard custom setting can vary according to your specific computer's monitor and graphics processor, but there are basic steps to give you the access you need to reset your resolution.
Step 1
Launch the "Start" menu and click "Control panel."
Step 2
Choose "Adjust screen resolution" in the "Appearance and Personalization" section. This brings you to the basic display resolution page. From here, you can choose a standard resolution from the drop-down menu if you want only minor changes within Windows presets. However, these settings are not truly custom, so if one does not suit your needs, continue with the next step.
Step 3
Select "Advanced settings" near the middle of the window. This will launch a window that offers options specific to your computer and monitor.
Step 4
Select the tab that says something like "[Graphics processor name] Control Panel" or similar wording, and then choose the "Graphics properties" or "Advanced" button. If you don't see a similar option, read carefully through each tab in this box to find the graphics settings option.
Step 5
Select "Custom resolutions" from the graphics properties window. You may have to read through a few menu options or tabs to find this option.
Step 6
Click "Yes" or "Ok" to dismiss the warning window that tells you that custom settings can alter performance. If you are new to custom settings, read through the warning before you decide to continue.
Step 7
Enter your preferred resolution settings in the input area provided. Follow any other on-screen instructions relevant to your new settings, such as creating a name for the new setting.
Step 8
Click "Add," "Save" or the similar option in your interface.
Step 9
Click "Ok" to save and apply your custom settings and close the graphics properties window. Continue clicking "Ok" to close out any other remaining Control Panel windows.
Warning
Remember your original settings so you can restore the screen resolution if your custom resolution interferes with your computer's performance.