When you try to use a computer's microphone and speakers to produce a karaoke setup, amplify your voice for a presentation or otherwise feed sound from an external source, you'll find that Windows 8 does not automatically output the audio through the computer's speakers. You can change the Windows 8 sound settings, however, to accomplish your goal.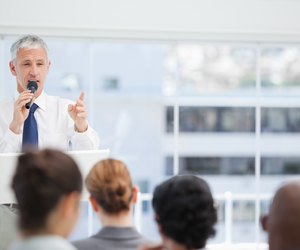 credit: Wavebreakmedia Ltd/Wavebreak Media/Getty Images
Step
Press "Windows-X" to open the Windows 8 utility menu and then select "Control Panel." Alternatively, search for "Control Panel" in the Windows 8 search utility and select "Control Panel."
Step
Click "Hardware and Sound," choose "Sound" and then select the "Recording" tab. Alternatively, right-click the speaker icon from the Desktop mode's notification area and select "Recording Devices."
Step
Find the icon for your microphone, double-click it to open its Microphone Properties window and select the "Listen" tab. If multiple microphones and devices are listed, experiment to find the right one. One way to identify the active microphone is to produce sound and look for the bar to turn green, indicating it's receiving audio. If you don't find your microphone listed, it may be disabled. Right-click near the list, select "Show Disabled Devices" and right-click to enable a disabled microphone.
Step
Check "Listen to This Device" and then click "Apply" to feed sounds from your microphone to your speakers. If you don't hear anything, click the "Playback Through This Device" drop-down menu, select your speakers and click "Apply."