Windows 7 and 8 include two tools that are perfect for testing microphones, whether you're trying to set up a single headset or test a whole box of old electronics. Start by checking whether your computer picks up any audio in the Sound Control Panel, and then use the Sound Recorder to record a short test.
Tip
Many programs that use microphones include their own mic tests. You don't need to test each program separately -- if your microphone works, it'll work in all your applications -- but some offer more convenient features than Windows' built in options. For example, Skype provides an echo service that records your voice and plays it back automatically.
Check Your Recording Hardware
Step 1: Open the Sound Control Panel
Right-click the speaker icon on the taskbar (or in the hidden icon section) and choose Recording Devices.
Step 2: Test Your Microphone
Speak into your microphone and watch the volume level bar on the Microphone line. (On some PCs, "Microphone" has a slightly different name, such as "Mic.") If the level changes as you talk, the microphone is picking up audio. If the meter doesn't change no matter how much noise you make, the mic isn't working.
Tip
USB headsets require an extra step at this point: select the headset in the list of devices and click Set Default. Watch the volume meter by the headset's name, rather than on the Microphone line.

Analog headsets and microphones, which have a 3.5mm connector, won't show up in this list by name. Leave the default set to Microphone for these devices.
Create a Test Recording
Once you know your microphone picks up audio, use Sound Recorder to make sure your voice records clearly.
Step 1: Open Sound Recorder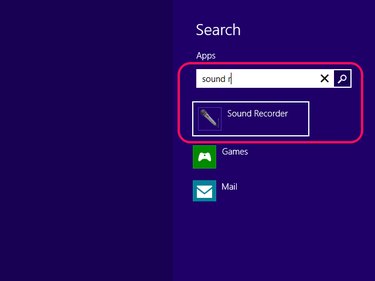 Search for and open Sound Recorder with the Start screen or Start menu search bar.
Step 2: Record a Message
Click Start Recording and speak for a few seconds to record a message.
Step 3: Save and Play the Recording
Click Stop Recording to finish the recording and bring up the Save dialog box. Save the file in an easy-to-find location, such as the desktop or a new folder. Outside of Sound Recorder, double-click the file you just saved to listen to it.
Tip
If your recording works but sounds too quiet, return to the Recording Devices page where you checked the volume level. Select Microphone (or your USB headset's name), click Properties and use the sliders on the Levels tab to adjust the volume.