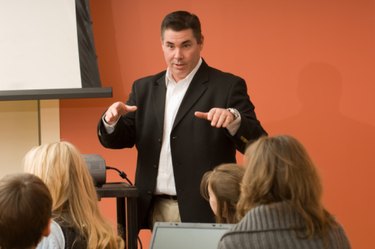 Optoma manufactures a line of projectors marketed for game use which provide a self-contained audio system that allows you to add sound to your game-playing experience. Using RCA connectors, you can link the audio directly from your video source to your projector, supplying stereo quality sound to go along with the large projected picture capabilities. With the proper external equipment, you can have quality sound delivered for your Optoma projector.
Step 1
Locate the RCA audio outputs on your sound source device. There are two, a left output and a right output, which combined provide stereo sound for your projector.
Step 2
Plug an RCA cable into the left output of the sound source device, then plug a second cable into the right output.
Step 3
Run the two cables to the rear of the projector where the input/output ports are located. Plug the cable from the left output into the left RCA audio input connector on the rear of the projector, and then plug the right output cable into the right audio input connector.
Step 4
Plug a set of headphones or speakers containing a 3.5mm mini jack connector into the audio output connector on the rear of the projector. If using speakers, make sure they're amplified.
Step 5
Turn on the projector, the sound source and the speakers. Select the RCA outputs as the audio outputs for the sound source, and then begin the audio. For a DVD or Blu-ray player, this typically involves inserting the video, for a gaming console, start the console. The sound from the sound source will now play through the headphones or speakers connected to the rear of the projector.