People who create impressive presentations quickly often use templates as starting points. Like a blueprint, a template is one or more slides that contain images, shapes, headings, animations and other slideshow elements. After you import a template, you can tweak its elements to create a presentation that suits your needs. Templates may also help you think of exciting new layout and design ideas. Importing a template is so easy that the hardest part about the whole process may be finding a template you like.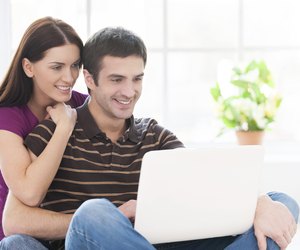 credit: g-stockstudio/iStock/Getty Images
Import Online Template
Step
Launch PowerPoint, click "File" and then click "New." Type a search term in the "Search for Online Templates and Themes" search box. For example, if you need a calendar template, type "Calendar" in the search box. Press "Enter" and PowerPoint displays thumbnail images of templates it found that match your query.
Step
Click the thumbnail image of a template to view a larger version. A description next to the image contains a rating that people gave it along with the file's download size.
Step
Click "Create" to download the template and view it in PowerPoint.
Import Custom Template from Earlier PowerPoint Version
Step
Press "Windows-R" to display the Run window. Type the following into that window:
%appdata%\Microsoft\Templates\
Step
Press "Enter" to open File Explorer and copy the file path you see in File Explorer's address bar.
Step
Launch PowerPoint, click "File" and then click "Options." Click "Save" and paste the file path you copied into the "Default Personal Templates Location" text box. Click "OK" to save your changes. The next time you click "File" followed by "New" you'll see a "Personal" tab. Click that tab to view your custom templates and click one to load it.