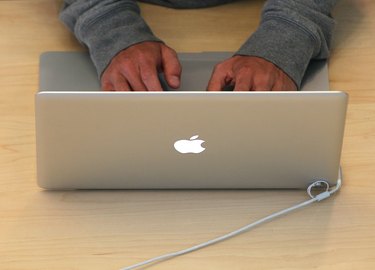 Keynote is a robust presentation program that is Apple's answer to Microsoft PowerPoint. It is included in the iWork Suite. It allows the presenter to flawlessly create and spearhead presentations using pictures, images and text. Importing pictures and clipart into your Keynote presentations will let you show your audience visuals that will supplement your words.
Step 1
Open the Keynote application within your Mac by going to your hard drive icon, and selecting "Applications." Then select "iWork" next select "Keynote." You will have the option of either selecting a template that will contain the style of presentation you are looking for, or of opening an existing file.
Step 2
Import your picture or clipart straight into Keynote by locating the folder on your Mac that has the images you are looking for. Once you open the folder, drag and drop the icon or clipart into your Keynote screen. While dragging and dropping you will see a green plus sign located next to the picture you are dragging; this plus sign informs you that the image can successfully import into the application. Once you drop the image file into your Keynote screen, you'll be able to resize and crop the image if needed.
Step 3
If your image is located in another application, you can drag and drop the image from the existing application into your Keynote screen. The green plus sign will again be seen when dragging and dropping into the Keynote screen.
Step 4
Import the image by using your keyboard and edit menu. Select the image that you are interested in and highlight it by clicking it once with your mouse. Next, either press "Command+C" or select "Copy" from the edit menu at the top of the application menu. Next, go into your Keynote screen and select "Paste" from the edit menu or press "Command+V." The picture will now show in Keynote and you can crop and resize as needed.