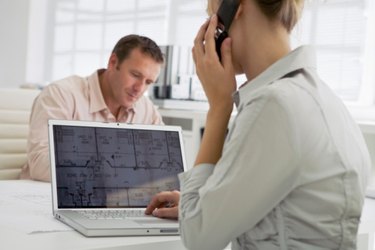 With the Microsoft Office PowerPoint presentation software you can add text, sounds and images to the various slides that you want to appear in your slideshow. If you want to add a 3D image to a slide then you must have the Adobe Acrobat 9 Pro application also installed on your computer. With the program installed, the Acrobat tab will appear in your PowerPoint application and you can then select the 3D model file that you want to embed into your presentation.
Step 1
Open the Microsoft PowerPoint presentation file on your computer that contains the slide you want to add the 3D image to.
Step 2
Click in the slide where you want the 3D image to appear. Select the "Acrobat" tab from the top of the application.
Step 3
Click the "Embed 3D" button and then select the "Browse for Model" button. Locate and select the 3D file you want to insert, and then click the "Open" button.
Step 4
Select the file type for the importing process in the "Import Settings Profile" menu. Click the button to the right of the script if you want to insert JavaScript to the 3D file.
Step 5
Click the "OK" button and the 3D model will be fully added to your slide.